Southeast Memphis continues to be a hot area to invest in Memphis real estate. This 3/2.5 property is no exception! With a double digit return for cash buyers and over $250 monthly cash flow after long-term financing, this property is an absolute winner at .54 cents on the dollar!
5593 Newberry, Memphis, TN 38115--Memphis Investment Property
Southeast
Memphis investment propertie
s are known for being fantastic income producers when
Memphis real estate investors
purchase correctly. At ..54 cents on the dollar, an investor would definitely be in at the right price! The unique layout of this three bedroom brick house located on a beautiful street in the Fox Meadows area of Memphis, will attract tenants quickly and possibly a Lease Purchase contract. This property has nice hardwood floors, a two car carport, an extra half bath, separate den, and large bedrooms. Compared to other
investment properties in Memphis
, the half bath and unique layout will help this property stay occupied. As an investor, the $40,000 in wquity coupled with the uniqueness of the property, make this a very solid investment.
Repairs include: refinishing of hardwood floors, interior paint, servicing of HVAC, plumbing repairs, yard work, and house cleaning.
Due to perpetually changing market conditions, estimated values can vary due to external factors such as lender requirements, appraiser used, and length of time to refinance after purchase. Estimated values indicated are from time of posting.
Contact Information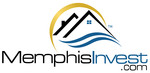 MemphisInvest.com
1-877-773-9998
Pricing
Price: $64,900.00
Estimated Rent: $950-$1,050
Annual Taxes: $2,287.38
Zillow: $127,000
Previous Sale: $135,000
Tax Assessed: $126,800
Rehab: $16,000
Estimated ARV: $120,000
Property Location
5593 Newberry
Memphis, TN 38115
View Map
Features
Bedrooms: 3
Bathrooms: 2.5
Parking Spaces: 2 Car Carport
Year Built: 1981
Lot Size: .31
Square Footage: 2331